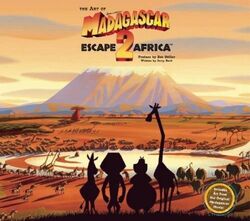 Would you trust a squad of trash-talking Penguins to fly a plane? Probably not, but for Alex the lion, Marty the zebra, and Melman the giraffe there isn't much choice if they ever hope to see the Central Park Zoo again. Join your favorite Manhattan menagerie in The Art of Madagascar for a look into their wild ride from their first trip to the island paradise to their venture into the African Savannah in the upcoming sequel Madagascar: the Crate Escape.
The Art of Madagascar explores how the zoo comes to life featuring an untamed look into the visual effects and development from the Dreamworks team that brought you Shrek and Shark Tale. Discover how animators incorporated animal idiosyncrasies into each character, how digital avatars were tailored to voice actors, and the inside scoop on those darn penguins. The abundance of behind the scenes visuals, information, and special features in the The Art of Madagascar is sure to drive kids and anyone's creative curiosity wild.
About the Author
Edit
Jerry Beck is the author of eleven books on animation and cinema, including Looney Tunes: The Ultimate Visual Guide, The 50 Greatest Cartoons, and the acclaimed Hanna-Barbera Treasury. He is a frequent contributor to Leonard Maltin's Movie Guide, as well as such popular magazines as Variety and Hollywood Reporter, and co-writes the popular animation blog Cartoon Brew. He lives in Los Angeles.
Publishing Details
Edit
Hardcover: 160 pages
Publisher: Insight Editions (October 8, 2008)
Language: English
ISBN-10: 1933784709
ISBN-13: 978-1933784700
Product Dimensions: 11.1 x 10.3 x 0.9 inches
Shipping Weight: 3.1 pounds
Where to Find
Edit
Video look
Edit
---
END OF ARTICLE
---